American Association of Physics Teachers  CO / WY Regional Conference
12 April 2014 @ The University of Colorado at Boulder
The CO/WY Region AAPT Conference organizers will host this year's AAPT meeting the University of Colorado in Boulder. We are excited to have Nobel Laureate Eric Cornell as our Key note Speaker. This year we are asking Physics teachers, professors, and graduate students for presentations on how to make physics education fun. Of specific interest to this conference are topics that are related to but not limited to the following areas:
- Streamline to Mastery
- Project Based Inquiry
- Hover Cars
- Physics Education Research
Contributed talks and workshops are welcome, but space is limited. Please send your Abstract to Bethany Wilcox before 31 March 2014.
Preliminary Schedule
8:30 – 9:00      Registration 
9:00 – 9:15      Welcome & Opening comments
9:15 – 11:00    Contributed talks and Streamline to Mastery workshop
11:00 – 11:30  Keynote Speaker: Eric Cornell 
11:30 – 12:00  Business meeting
12:00 – 12:45  Lunch
12:45 – 2:00    Project-based Inquiry Workshop
 2:00 – 2:30     Demo Show by Mike Dubson
 2:30 – 4:00     Lab Tours and Show at Fiske Planetarium
Questions – Contact Bethany Wilcox 
COST – (Includes Catered lunch)
| | |
| --- | --- |
| Teachers & Scientific Professionals | Undergraduate, Graduate Students, First Year Teachers, High School Students |
| $15.00 | $5.00 |
You become a CO/WY Region American Association of Physics Teachers member at no cost by simply registering for this conference!
Keynote Speaker – Eric Cornell
Eric Cornell along with Carl Wieman and Wolfgang Ketterle, won the Nobel Prize for Physics in 2001 for creating a new ultracold state of matter, the so-called Bose-Einstein condensate (BEC).
After studying at Stanford University (B.S., 1985), Cornell earned a Ph.D. from the Massachusetts Institute of Technology in 1990. In 1992 he joined the faculty of the University of Colorado. That year he also became a senior scientist at the National Institute of Standards and Technology.
In the early 1990s Cornell began searching for the Bose-Einstein condensate, which had been predicted some 70 years earlier by Albert Einstein and the Indian physicist Satyendra Nath Bose. In this state atoms are so chilled and slow that they, in effect, merge and behave as one single quantum entity that is much larger than any individual atom. In June 1995, working with Wieman, Cornell used a combination of laser and magnetic techniques to slow, trap, and cool about 2,000 rubidium atoms to form a BEC. Cornell's work provided insight into the laws of physics and led to studies on possible practical uses of BECs. He became a member of the National Academy of Scientists in 2000.
Keynote Presentation: Bose Einstein Condensate

 Cool stuff…
Fiske Planetarium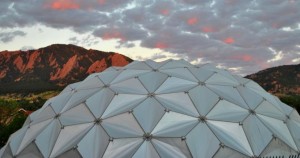 Our final activity of the day will be to walk down a scale model of the solar system and catch a star show at Fiske Planetarium. CU Boulder's Fiske Planetarium (http://fiske.colorado.edu/) celebrated it's grand re-opening last October. The modernized Fiske can now can show a wider range of media including ultra high-definition movies. In addition to movies and space odysseys, the planetarium offers laser shows. The new star ball can display up to 20 million individual stars — a vastness not fully visible to the naked eye.
Registration
Please complete the registration form below by 5:00 pm MDT on April 12th, 2014. On-line registration payment will be collected at the registration on meeting day. Late registrations at the conference will also be accepted for an addition $5 increase to cost.